dressed cabinets
fabric meets frame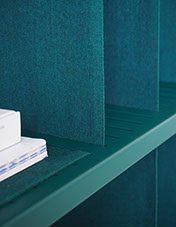 Dressed Cabinets are now part of the collection of designlabel Vij5! For more pictures and information, click !
here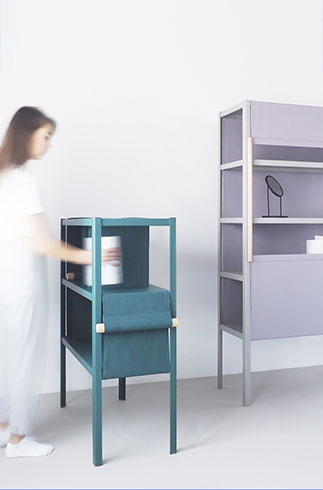 These 'Dressed Cabinets' are inspired by a childhood memory. As a little girl, I used to build huts by hanging bed linen on the frame of my bunkbed. Towels became sliding doors and pillowcases served as hanging baskets. As a designer, I reconsidered the same concept and show what textiles can do for a simple shelving unit. Owners can dress up their cabinet the way they like by weaving fabric through or around the metal frame. The tension in the fabric, created by the wooden parts, ensures the final form and functionality of the design: open or closed, formal or playful, static or dynamic. Dressed Cabinets invite adults to play with the appearance of their furniture once again.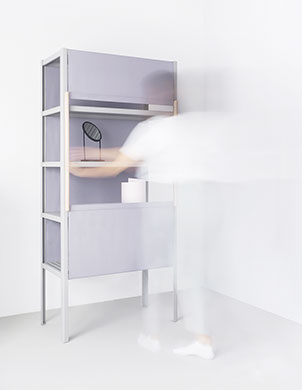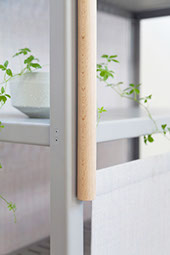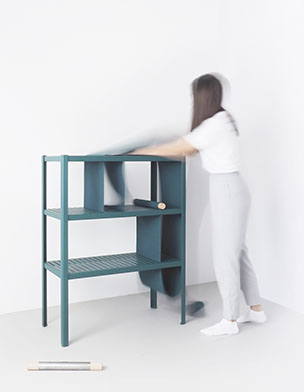 I am Puck Dieben. I graduated from the Design Academy in Eindhoven in 2016. As a pragmatic poet; I likes to search for simple solutions within limitations and love to give shape to imaginative concepts. In my design process I translate my ideas into simple yet playful objects that are characterized by a sincere, graphic form language. By doing this, I aim to capture wonder from daily life in tangible and useful design.